It was recently World Mental Health Day, and I wanted to start writing this blog again. I made a note in my calendar to try to do it weekly, but even then I've ended up pushing it back to three days later. It's been over a year since I actually wrote a proper freelance reflection, so I guess things are going well in that respect, but for my next post, I hope to catch up with that.
So, the topic of this post was the question as to whether poetry is therapy. My short answer is no, but that's not to say poetry and other forms of art can't be used for therapeutic goals. Over a year ago now, I made a new friend through other friends and he challenged me to write something everyday, and he would do the same. He wasn't a writer, but wanted to be more creative, and he told me in this time that it was something that really helped him. After a year, I had a lot more material that I would have had otherwise, and I think the process was therapeutic for both of us. 
Poetry is cathartic for me, and it is naturally how I process things. I aim to write my diary each morning, but it is writing poetry that gets to grips with certain issues, delving into them in a way my simple prose writing often doesn't. Fellow writers may also have the same experiences, whereby the same themes will reemerge time and time again, haunting you, as if each time you return to it, you are attempting to exorcise it from you. There is something about getting it down on paper in a poetic form that allows you to distance yourself from it somehow, as you then try to craft it into art, and shape it into something that can then also connect with others and help them too.
Helping others is what motivated the artist Rich Simmons to create the project 'Art Is The Cure'. He explains in the short film how art has helped him with autism and mental health issues such as depression and anxiety. He talks about how visual art can help as a means of self-expression, and how it can be a positive release, even going as far as saving his life. Throughout the last few months, experiencing lockdown, I have also recounted how poetry has saved my life, in response to the way the arts are suffering and how they continue to be devalued. He talks about how other kinds of art can help us, and that it is really creativity as self-expression that is at the core of what is therapeutic in this sense. 
This concept was also summed up in one of my favourite podcasts (before they moved from Spotify to Luminary, which isn't available in the UK), 'Guys We Fucked' by 'Sorry About Last Night', made up of comedians Corinne Fisher and Krystyna Hutchinson. They would repeat the phrase 'comedy is therapy'. After Tweeting about a show I'd listened to that made me both laugh, cry, and heal, on a train, they repeated this phrase again when retweeting me. Likewise, Apples and Snakes shared poet Inua Ellams' 'Art as Therapy', where he discusses the topics, stating: 
"Any seasoned poet will concur that more time is spent editing than writing. Involved in that process is the going-over of memories and instances, of emotions and images, the combing-through and the filing-down-to-their-smoothest-most-ergonomic-shapes our creations. It involves meditation, introspection and inspection. This for me is where poetry becomes therapeutic, when the created serves the creator, when the feather serves the bird."
All of these points are true, but it was this Tweet from Burning Eye, which put the state of mental health in UK today into perspective: when it comes to talking about mental health, things are getting better, but when it comes to funding and enabling people to have access to therapy, we are a long way off.
Today is #WorldMentalHealthDay – just a quick one to say hello, your feelings are valid. Poetry can be a powerful tool for healing, but it is not therapy. Your audiences are not therapists and you do not have to give everything you have every time. Find joy in your writing. x

— Burning Eye Books (@BurningEyeBooks) October 10, 2020
https://platform.twitter.com/widgets.js
Poetry, art and any kind of creative self-expression is certainly therapeutic, but it is not in itself the same as therapy. CBT and mindfulness are also great tools to tackle mind anxiety and depression, but even with CBT, I would argue that it is pushed because it is often cheap. It is often delivered in groups, and can even be DIY, but it is not a miracle cure. Really, what is needed is a holistic approach, that gives value to both therapy and medication, which can often work best in tandem, rather than it being a case of one or the other (though I'd argue sometimes therapy alone could work, I'm skeptical about medication alone working, but that's more to do with my view that everyone would benefit from therapy).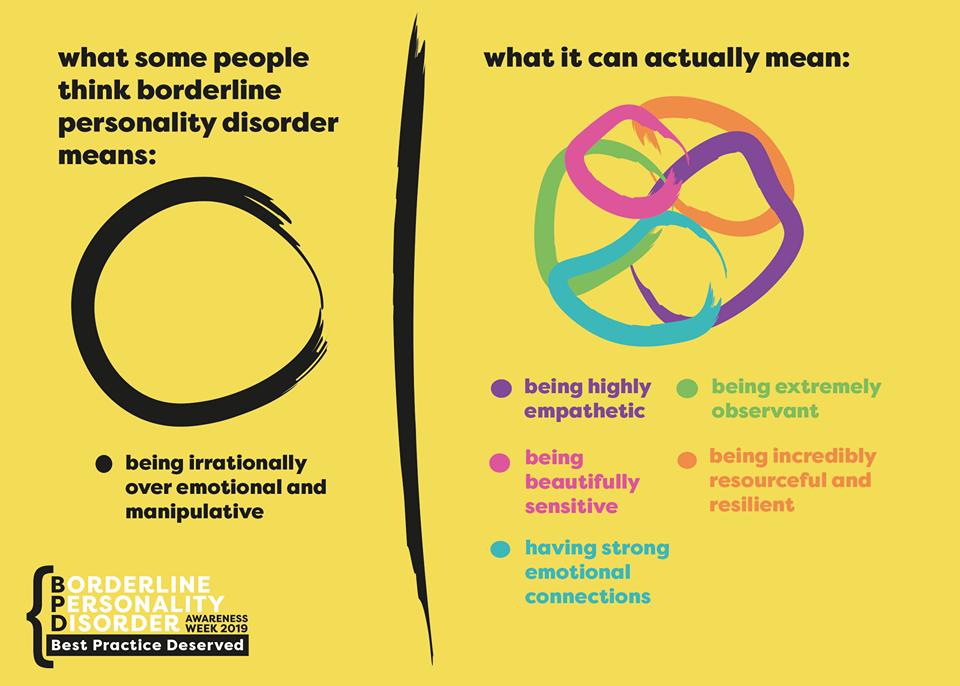 At the start of this year, I saw a psychologist who said I had traits of BPD; she phrased it 'Emotional Intensity Disorder', but this is just one of the many alternative names for Borderline Personality Disorder. I tend to use the term 'BPD' because it is more well-known, though I do feel that EID does capture a large part of the characteristics of my own experience. What others may deem to be "too sensitive" simply refers to my lived experience, and whilst there are negative points to feeling so intensely, I am thankful that at least these experiences of emotions has given me greater empathy and compassion for others.
Although I see it as a kind of neurodivergence, because of the fact, I often feel I really need the support of therapy, whether one-to-one, or a support group. Unfortunately, the support I was given previously was inadequate, essentially due to lack of funding and not being suicidal enough to get proper therapy (though ironically, that changed over the last few months, when it has been impossible to get anywhere). After moving, I found a support group that would have been free to attend, but I was in the wrong borough, and I haven't had much luck finding anything beyond the £75-100 BPD therapy sessions. If there was a way to pay a fraction of the cost, and for the majority to be covered, it may be doable, but I'm not aware that this framework exists. Previously, I had paid for one-to-one counselling at a cheaper rate, but it didn't meet my needs.
I know I need to do more self-help work as well, and part of me is using other (sometimes unhealthy) coping mechanisms rather than delve into the DBT book I have, for example, which is meant to be good for those with BPD. Aside from that, poetry, amongst other things, has saved my life, where the system has failed me, and so many others. The less fortunate are no longer with us.
Suicide rates are continuing to rise, and our mental health is bound to be the collateral damage of the current pandemic. Writing, drawing, walking, skateboarding, rollerblading, dancing, singing, cooking, playing games, and having a good support system have all helped me and continue to do so. But when things are okay, I still don't feel I have the right tools to cope when triggered, where I might turn to unhealthy coping mechanisms, whether manifesting as an "episode" of crying inconsolably, screaming in a rage, or self-harming (in its many forms). When these moments happen, I'm reminded that I do need help, but at other times when I reflect on my instability in relationships, it can dawn on me how much I need support in unlearning certain patterns (one of the biggest I think being related to elements of emotional abuse, whereby I have grown attached to receiving comfort after either being ignored or treated poorly emotionally in some way, meaning I am finding myself becoming attached to those who use such manipulation tactics or simply behave in an avoidant way due to their own attachment issues, for example).
Where the system does fail us, we have art to reflect our experiences when we consume it, and we have this fantastic ability to create, where talent and skill doesn't have to matter, as it is something that everybody can do to feel good, whether it's as a means of self-expression, an attempt to heal from pain, or simply to get a buzz from creating something from nothing.
If you want to know more about BPD disorder, I stumbled upon this video, which I've found accurately describes most of my experience. The fears of abandonment, interpersonal issues, and difficulties with regulating emotions are described here as the main characteristics. The only thing I would say, is that I have a strong sense of identity, though I can relate to the idea of having different personas within myself, but in a way that I feel is somewhat "normal". I also feel like to say a reaction is "too much" is difficult to fully get to grips with, as it is in response to real emotions, and whilst I fully acknowledge I need to take responsibility for the ways I cope with these emotions, more often than not, a little empathy and compassion goes a long way too.
In the video, Dr Ramani also emphasises that diagnosis is a tool to drive treatment, rather than labelling someone, which is also a great point to remember.
If you are struggling to cope, please call Samaritans for free on 116 123 (UK and ROI), email jo@samaritans.org or visit the Samaritans website to find details of the nearest branch. I have also personally found CALM's chat function helpful, because phone calls with strangers can also provoke anxiety.